Appreciating Quality Abaya Fabrics
It is important to buy abaya fabrics of good quality material. The usual fabrics used for abaya are crepe, chiffon, georgette, silk and satin. Within these individual fabrics also, there are many different types for example you could find Saudi crepe or Japanese crepe are used to make abaya.
The most widely used fabric for abaya is crepe. There are large varieties of crepe in the market ranges from thick, heavy crepe to thin, light crepe. 
In some Middle East countries like Saudi, if you bought abaya around winter time, all the crepes would be quite thick and heavy. While in summer, thin and light crepe like saloona and internet crepe would normally be used for abaya.
Other great summery abaya fabrics are rayon, linen, viscose and lightweight cotton. Thin and lightweight koshibo and peachskin are also excellent fabrics for summer abaya as they allow air to go through.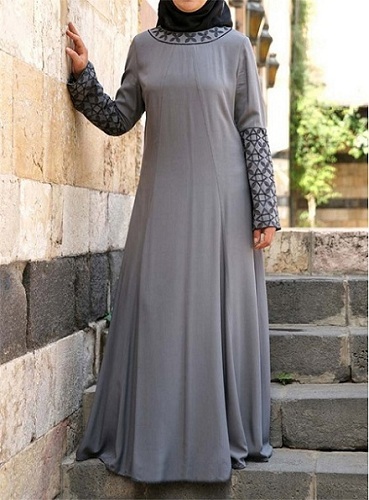 Habiba Abaya made of 100% rayon suitable for summery special occassions available from Shukr
Most types of jersey and satin are not suitable for hot weather. However, high quality satin or a blend of silk and satin with good air flow are great for special occasion abaya worn in warm weather.
I used to like cotton abaya which I bought from Shukr. Though they are comfortable to wear during summer, I dread the thought that I have to iron them properly before using. Now, I'm more into any abaya made from good quality crepe. Not only that crepe abaya fall beautifully, requires less ironing but also durable in the sense that the colour doesn't fade easily.

You could also find all-season koshibo, which is not super thin but no also thick. Abaya or jilbab made of this fabric is definitely suitable for all seasons. You could be wearing it all the time and worthwhile to buy good quality ones.

While thin material is essential for hot weather, it is essential that the fabric does not stick to the body. For comfort as well as for comfortable level of modesty find weighty, high quality fabric with breathable property for your abaya. 

There is other type of crepe called mustaqbal crepe which is a little bit weighty with a texture to the fabric. This crepe is very airy due to the weave of the fabrics that lets in air while remaining opaque and dense. 

You would normally find this good quality crepe for abaya made from Saudi or some other Middle East countries like UAE. Be very careful with cheap crepe as it is extremely lightweight yet completely dense with no open weave, thus does not allow air to flow and most of the time glue itself to the body when the wind blows.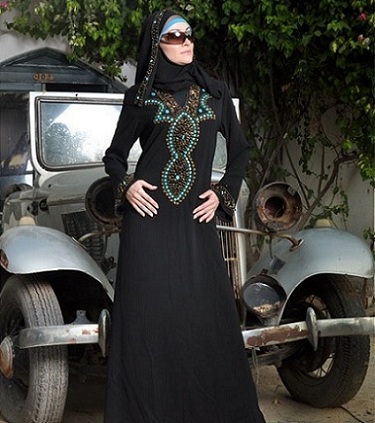 Gorgeous May Abaya made of crepe and hand beaded with stone from Islamic Boutique
There is also high quality Maliki crepe that has slight ridges in the fabric weave, making it breathable. Maliki crepe is wrinkle-resistant and has a medium weight, allowing the abaya to fall beautifully. This type of fabric is great for abaya for formal wear and special occasions.

Bahraini Internet crepe is a medium weight. The fabric has a smooth and slightly silky feel to it, allowing the abaya to drape gracefully. This fabric is suitable for all seasons.

Maypoly crepe is another medium weight crepe among few collection of quality abaya fabrics, which falls and flows beautifully. The fabric has a slight grain texture. It is quite durable and great for everyday wear abaya.

If you fancy satin for formal wear or special occasion abaya, find high quality satin fabric with a slight rippled texture. This fabric is smooth and silky, wrinkle-resistant and has a medium weight, allowing the abaya to flow nicely and elegantly.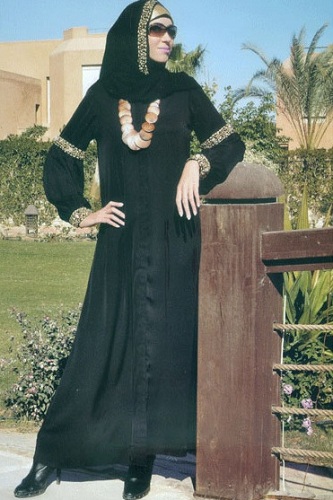 Designer abaya from 2Hijab, made from satin with gold bead
Other abaya fabrics include lexus - mix of polyester and wool peach, suitable for colder seasons; internet - 100% polyester and is suitable for both hot and cold seasons; and nidha - 100% polyester, a light, smooth and soft fabric suitable for hotter seasons.


~~~~~~~~~~~~~~~~~~~~~~~~~~~~~~~~~~~~~~~


As you enjoy and find inspiration from the ideas here, would you like to share with us and submit your own Hijab tips, ideas and photos. You'll be taking part in creating and developing the 'best' Islamic clothing ideas resource that's absolutely FREE for every Muslimah to share here, InsyaAllah!
Jazakallah Khair..............


~~~~~~~~~~~~~~~~~~~~~~~~~~~~~~~~~~~~~~~
Share with us about your own Hijab tips, ideas and photos
Describe your tips and ideas here. Just enter any sort of information that'll help inspire others to do it themselves.
---
Return from Abaya Fabrics to The Best Islamic Clothing Homepage
---
Comments
---
New!

Comments

Have your say about what you just read! Leave me a comment in the box below.