About Me - My Personal Islamic Clothing Story
Assalamualaykum,
My name is Umm Aqib. I created this website about Islamic clothing and modest dressing. This page About Me, is meant to introduce myself to you as well as to give you an idea how this website was created.
I don't actually have any professional background in the fashion industry, but throughout the years, have built up quite a body of knowledge on the subject through reading and observing what people are wearing around me.
I am passionate about Islamic clothing and modest fashion. I just love hijab, abaya, jilbab, traditional Islamic dressing, and modest clothing and absolutely enjoy writing about them as well as sharing photos of them and helping others.

This website is certainly a labor of love. It is a site for us Muslimah and hijabi to share ideas and knowledge on how to look good and comfortable in Islamic clothing and modest dressing.
---
My Hijab Story
Being hijabi since I was a teenager naturally provides me an insight what suits modest style without comprising Islamic values and rules. I like to keep abreast with fashion and see women with good sense of dressing. To me what we wear is a creative expression of who we are.
During my undergraduate years in Australia, I enjoyed outdoor activities including cycling, swimming, snorkelling and running. I always reminiscence the good years I had experimenting with different styles of sportswear to feel comfortable without compromising Islamic values.
Upon graduating, while pursuing a career as a quantity surveyor, I enjoyed mountain climbing and diving during my pastime. In trying to uphold Islamic ways of dressing, I didn't feel the least it inhibited me from participating in the outdoor activities that I liked.
These experiences help me to write about Islamic sportswear, modest swimwear and burqini in this website.
When I did my part-time post-graduate study in facilities management in Malaysia, I was very keen on wearing the traditional Malay clothing to classes as well as to office. The clothes are very modest and in line with Islamic dress code called baju kurung, literally means covered dress.
---
Ireland in Memory
When I started this website I was working and living in Dublin, Ireland.
I have four beautiful young children from the age of 7-11 at that time. Yes, they keep me busy apart from my job and also 'teach' me to multi-tasking.
Living environment in this country provided me with ideas for this website. It was sometime challenging as well as inspiring to try to blend office wear and construction site attire with hijab and modest dressing in a multi-national organisation and male dominated environment. Yes, my job scope required me to go to site a few times a month.
During weekend in the evening I was always busy in and around the mosque while waiting for my children finish their lesson at the madrasah. There, I was fascinated to see what our sisters of different nationalities and backgrounds were wearing whether there were abaya, jilbab, traditional clothing, various fashion of modest outfit, different styles of hijab etc.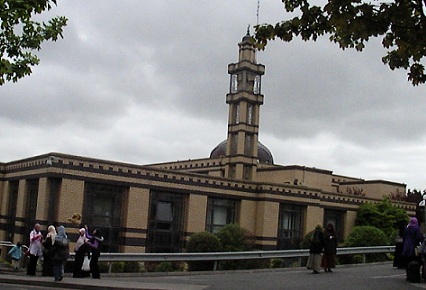 Clonskeagh Mosque, Dublin
This observation also helped to provide me with ideas and tips to share in this website.
With mixed feeling we left beautiful and memorable Irish land for a new life in Canada. It was one of the reasons why this website was a bit quite for a while in 2013.
---
About Me Now
At the moment I am still trying to adjust life in Canada particularly in Toronto where we live.
With vast Muslim community here I have seen more varieties of hijab style and trend even though not as vivid and lively as other Muslim countries. It is interesting to see how the sisters wear their hijab, abaya and modest attire depending on the four distinct seasons in this country.
I hope I will be more active in providing information, sharing knowledge and ideas to help all the Muslimah out there to be able to look fabulous and comfortable in our Islamic fashion and modest style - from the land of maple syrup, Canada!
Please do not hesitate to Contact Me, for any questions or suggestions regarding Islamic clothing and modest fashion. I would love to hear from you!
Jazakallah khair......
Thank you for visiting The Best Islamic Clothing .......
Umm Aqib
Editor, The Best Islamic Clothing
---
Return to The Best Islamic Clothing Homepage
---
Comments
---
New!

Comments

Have your say about what you just read! Leave me a comment in the box below.