Smart Jilbab With Vibrant Hijab and Beautiful Accessories for Any Occassions

Jilbab is perfect for any official occasions as well as comfortable enough for casual wear.
I love wearing it to work. Carefully selected piece looks smart and elegant by itself with matching hijab.
If you feel like to dress up a bit, cleverly chosen accessories such as brooch, rings or bangle will do wonder to your overall appearance.
Some of you may like to dress simply without any frill and add a dash of ump to your appearance with good quality handbag to match.
Whatever your preference, we will guide you here to give you idea and inspiration on how to dress beautifully, without compromising your integrity as respected Muslim women.
We will bring you the best Islamic clothing.........
Nowadays jilbab is coming with many styles and fashions without compromising on modesty.
The term jilbab is the plural of the word jilaabah which refers to any long and loose-fit coat or cloth worn by many Muslimah. Jilbab is also known as Jubbah or Manteau (which is the French word for coat or mantle).
This attire is not to be missed and a must in our wardrobe!
Casual jilbab is perfect for everyday use. Some style has an urban-feel design which is accentuated with flap pocket and hood as well as slits at the sides to allow for practicality and ease of movement.
You can also find casual jilbab that incorporate funky design for the young muslimah. It has a button-down front and a single breast pocket. The additional pockets are arranged in untraditional way to add to the unique feel.
Often made from cotton or denim this casual jilbab comes with contemporary and practical design. Functionality is fused with style with the inclusion of pocket, different style of cuffs and collar, be it mandarin or blazer collar to enhance the unique features of casual jilbab.
Its simplicity in its design and choice of material makes it ideal to wear on a daily basis.
Sports Jilbab

There is quite many selection of sports jilbab.

It comes with stylish, yet functional design that is ideal for active Muslimah.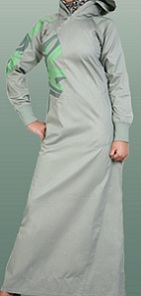 The slip-on design makes the garment easy to use with additional detailing to the sleeves, collar and sides for an individual touch. The zip front design is even more practical as an outerwear for sports activity attire, which often comes with a little bit of detailing to it for a distinctive look.

Cross between casual and sports look, sports jilbab is very versatile jilbab to add to your collection.

Whether it's on the gymnasium, basketball court or hockey pitch, this sport jilbab by itself or as an outerwear will give you confidence to perform your best in the activity of your choice.

Sports jilbab with hooded design with no-fuss cut is also prefered by many active Muslimah for outdoor activities.
The fabrics used for sports jilbab are usually comfortable, durable and easy to maintain, which usually of cotton, jersey, soft taslon or French terry type of fabric.
Workwear Jilbab

This kind of jilbab is elegant and looks professional.

It is often fully lined to give crisp look with contemporary cuts and expert tailoring.
Workwear jilbab generally looks like full length overcoat compliment with wide lapels, front side pockets, contra bias trim on lapels and cuffs.
Made of natural materials, lightweight cotton or linen, this classic jilbab is wardrobe essential for professional Muslimah.
Who wouldn't like to wear this jilbab to work - classic, stylish, neat and professional without compromising Islamic modesty.
Special Occasions Jilbab
This beautiful jilbab is frequently made from polyster blend fabric, silk or satin to give it grand and luxurious look suitable for auspicious occasions.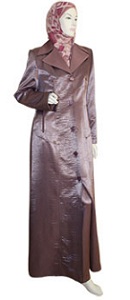 The style of this jilbab is elegantly soft feminine perfect to make anyone feel like a queen on the special event day be it wedding, Eid or party.
It often comes with intricate embroidery, stonework embellishment or crystal detail to the front, back, neckline and sleeves to enhance the magnificent look of the jilbab with matching hijab of similar details.
This outfit is an exceptional addition to any Muslimah wardrobe.
---
Return from Jilbab to The Best Islamic Clothing Homepage
---
Comments
---
New!

Comments

Have your say about what you just read! Leave me a comment in the box below.