Looking great and luxurious in Pashmina hijab

The name Pashmina comes from Pashmineh, sajan Persian pashm for "wool" as it refers to a textile made from fine cashmere wool.
The word cashmere derives from an old spelling of Kashmir. The wool comes from pashmina goat, a special breed of goat indigenous to high altitudes of the Himalayas.
Pashmina shawls are hand spun, woven and embroidered in Kashmir and made from fine cashmere fibre. Pashmina is known for its softness and warmth. As the fibre cannot tolerate high tension, pure pashmina is rather gauzy and open weave.
The most popular pashmina fabric is a 70% pashmina/30% silk blend, but 50/50 is also common. The 70/30 is tightly woven, has an elegant sheen and drapes nicely, but is still quite soft and light-weight.
I like pashmina shawls for hijab especially for winter wear because of its warmness, enhanced sheen and softness that the fabric (cashmere blended with silk) had.
It is also generously sized for extra coverage. Another advantage of a pashmina hijab is that it does not slip off the head. You can wear Pashmina with laid back styles or tailored work outfits; whatever way, you will always look fabulous in Pashmina hijab.

Loop Stripe Pashmina
Lightweight loop stripe Pashmina, with multi color thread stripe detail and knotted fringes. Update your look with this multi coloured stripes pashmina.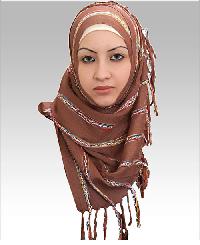 Airy Pashmina
Beautifully soft and light pashmina that is perfect for summer. It is made of 70% viscose, 30% polyester.




Multishade Pashmina Hijab
A pashmina hijab in multiple shades. This kind of pashmina hijab is great to match with many colours and shades of clothing.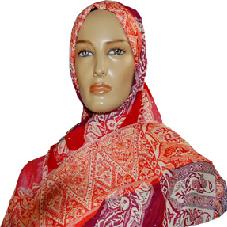 Paisley Pashmina Hijab
Gorgeous colour and timeless design for hijab. Made from a pashmina / silk blend, yet still light and breathable, this hijab is wonderfully soft and comfortable.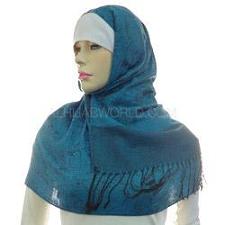 Selection of various Pashmina shawl

Plain Pashmina shawl may be simple at the first glance, but once you touch it you'll be amazed at how soft and beautiful they actually are. It stands out amongst the other plain shawl due to its magnificent colours.
Patterned Pashmina shawl is great because of its distinct colours and patterns. You can find wide range of patterned Pashmina scarves made with pashmina and silk designed in all kinds of colours and patterns from checkered to stripes.
Summer Pashmina shawl comes in gorgeous colours and wonderful designs. It is often made of lightweight Pashmina compositions, making it comfortable, soft and breathable to wear for hijab.




Wool Pashmina shawl is known to bring out color in an exemplary way. You would find that it is among the finest, softest and most attractive shawls today. Naturally it is great for cool season and with range of distinctive bright colors, it cheers up the gloomy winter days.
Silk Pashmina shawl enriches the colors and designs of Pashmina. As silk is one of the strongest yet softest materials used to make scarves, it is gorgeous for hijab and looks just as luxurious as ever.
Jacquard Pashmina shawl gives the style and appearance of your outfit in more ways than one. It uses jacquard weaving; a technique used to bring out life to the color and design of the Pashmina so that it looks wonderful and feels soft to touch.



More selections of pashmina in here
Beautiful printed Pashmina


TheBestIslamicClothingTips
A good quality Pashmina will be much lighter and softer to the touch than a poor quality pashmina.
The best way to wash your pashmina is to take it to dry-cleaners. But it is also possible to clean a Pashmina by hand using cool or luke-warm water and either natural soap, shampoo or fabric conditioner.
Gently caress the Pashmina with a neutral detergent and then leave to soak for about 10 minutes in the bathtub before rinsing thoroughly with cool or luke-warm water. The Pashmina can then be blotted dry by laying it on a clean dry towel and then draping it over a shower curtain until it is thoroughly dry.
Pashminas usually needs not require ironing as the wrinkles will fall out when the Pashmina is hung up. If an iron is used, a cool dry iron is the safest option.
~~~~~~~~~~~~~~~~~~~~~~~~~~~~~~~~~~~~~~~



As you enjoy and find inspiration from the ideas here, would you like to share with us and submit your own Hijab tips, ideas and photos. You'll be taking part in creating and developing the 'best' Islamic clothing ideas resource that's absolutely FREE for every Muslimah to share here, InsyaAllah!
Jazakallah Khair..............

~~~~~~~~~~~~~~~~~~~~~~~~~~~~~~~~~~~~~~~
Share with us about your own Hijab tips, ideas and photos
Describe your tips and ideas here. Just enter any sort of information that'll help inspire others to do it themselves.
---
Return from Pashmina to The Best Islamic Clothing Homepage
---
Comments
---
New!

Comments

Have your say about what you just read! Leave me a comment in the box below.