Versatile Abaya With Lovely Hijab And Smart Hijab Accessories That Never Go Wrong........

Versatile abaya, for all occasions, with lovely hijab and smart hijab accessories - Islamic clothing that I love most.
Abaya is long outerwear apparel essentially robe-like dress, worn nowadays by a lot of us. It is one of wardrobe staple to some people right across all ages.
Abaya is generally considered an Arabic clothing, Middle Eastern clothing or Islamic dress. It is a traditional costume for a number of countries of the Arabian Peninsula such as United Arab Emirates or Saudi Arabia.
This timeless dress is also known by various names but serve the same purpose that is to cover. Abaya is usually cut from light, flowing materials such as crepe, chiffon and georgette.
Traditional abaya is black and covers the whole body. Today, there are many styles of abaya, differing from region to region, from black abaya with elaborate embroidery or diamante to brightly coloured abaya with different forms of artwork across it.
It is interesting to note that since 90's wearing the abaya has become an interest to Muslim and non Muslim women. There are many varieties to choose from ranges from classy, stylish and trendy.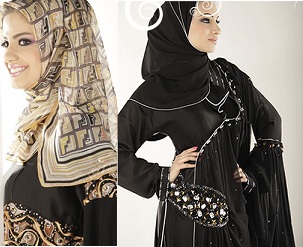 Abaya from Hanayen, one of the best abaya and hijab stores in Dubai
Abaya is easy to wear, no fuss and off you go. With smart choice of abaya and hijab, you feel comfortable and confident all day.
Depending on the time and occasion, you can enhance your look with cleverly picked accessories - smart hijab pin or lovely brooch or if you like simple but stylish ring or bracelet.
Where to find the best selection of abaya?
Here, in this site I guide you through..........
For a start, here are the traditional versatile abaya selections from Hadeyah.
| | |
| --- | --- |
| Saudi crepe abaya with printed applique | Abaya with beaded stripes |
| Crepe abaya with beaded waves | Abaya with beaded ribbon trimming on the back and cuffs |
---
I'm sure you also favour the modern type versatile abaya as they are suitable for all occasions with lovely hijab and smart accessories. They are amazingly a lot to choose from simple everyday collection to luxurious finest range for celebration and auspicious occasions.
Check out our versatile Abaya section for more great selections..........
The Best Islamic Clothing Tips
Fabric
It is important to buy abaya of good quality material. The usual fabrics used for abaya are crepe, chiffon, georgette, silk and satin. Within these individual fabrics also, there are many different types for example you could find Saudi crepe or Japanese crepe used to make abaya.
Soft with beautifully fall fabric is favored by many abaya wearers. Fabrics that are easy to iron are the second choice. Some fabric known as the "shiny" texture type such as satin or silk are quite difficult to iron and are not preferred by many women.
Design
Find good quality craftmanship for the abaya. Many abayas have diamante, beads or crystals glued onto them. If it's cheap glue or flimsy stiches used the embellishments will fall off easily.
Make sure the sequins, rhinestones, crystals or other decorations are attached firmly. Once these decorations fall off, it is not easy to stick or stich them back on. So, it is important to check the quality of glue or stitches used.

---
Return from Versatile Abaya to The Best Islamic Clothing Homepage
---
Comments
---
New!

Comments

Have your say about what you just read! Leave me a comment in the box below.