Hijab or Hejab - Head Covering That Suit Anytime, Anyplace

Hijab is head covering worn Islamic women. There are different types of hejab worn by Muslimah across the continents.
Hijab by virtue is a head cover for Muslim woman that should cover the hair and preferably the bosom as well.
But that does not necessarily means that hijab would hinder us from looking smart and beautiful.
And how do we achieve the look that we want to suit the occasion and the place?
With the emergence of various range of hijab including almira, scarves and pashmina, more and more Muslim women are encouraged to wear hijab.
There are wide ranges of hijabs that you can choose from depending on your mood, occasion or personal style. You can wear shayla, square hijab, shawl, scarve, amira hijab or pashmina.
---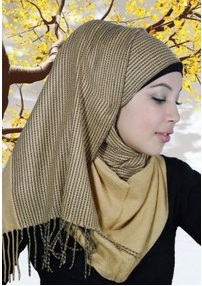 Shayla is the most popular style of hijab among the hijabi. You will need a good size of rectangular shawl or wrap.
Standard size of rectangular shayla is normally around 75" x 25" to provide sufficient coverage and length to wrap into different hijab fashion.
Shayla can be worn either strictly or loosely depending on one's personal style and preference. A lot of us opt for shayla style hijab because it is comfortable, simple, beautiful and most importantly it suit all face shapes. You can also wear underscaf, bonnet or headband with shayla for style or comfort.
For a great selection of gorgeous shayla, click on this link.
---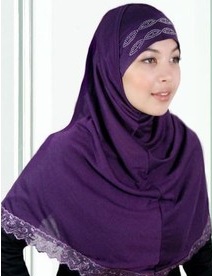 Amira hijab, known also as Al-Amira, is easy to wear style hijab. It is great style for us who love comfort and new hijabi that are learning to wear hijab.
It is a slip over hijab that comes in one or two pieces; with two pieces the other piece will be an underscarf of the same color or matching color that fits comfortably over the head.
Amira hijab is suitable and practical for working Muslimah as well as for students.  Its no fuss style and pin-less feature make it also suitable to wear for sport activities.
Click on this link for lots more Amira Hijabs that are really chic and modest to wear.
---
Some of us may opt for khimar, an easy to wear head scarf, as there are no pins required. You just simply need to pull it over the head.
A khimar is a head covering, made of semi-circular flare of fabric with an opening for the face. Nowadays it is usually referred to as a long head covering that goes as far as hip of the body which is called Saudi style, and up to ankles known as Somali style.
Sometimes khimar is also known as long Al-Amira hijab. It is very modest type of head covering.
---
Niqab
In addition to hijab, some of us may opt for niqab, facial veil used by many Muslimah for complete modesty. The two most common types of niqab are the half niqab and the gulf-style or full niqab.
Half niqab is a piece of cloth that cover the bottom half of the face from the nose down. The niqab ties around the head for adjustable fit. It is usually made of soft, lightweight fabric that is comfortable and breathable for all dear wear.
Full niqab comprises of 2 or 3 layers of soft fabric, with bottom and middle layer covers the face and top layer covers the eyes by flipping it back over the head. Similar to half niqab, it ties back around the head for adjustable fit with a band.
---
Burqa
And in some part of the Muslim world, burqa is more common among the Muslim women.
Burqa is an enveloping outer garment that covers the face except for a small area around the eyes, which is covered by embroidered grille or net. It is commonly donned by Muslimah in certain part of Afghanistan region and Pakistan.
---
Tudung
In Malaysia, Indonesia and Brunei, the hijab is called tudung. The style and material for tudung are fabulous and suitable for these tropical countries that are warm and humid through out the year.
---
The look of hijab and its style are enhanced further with the use of accessories such as vast range of elegant hijab pins, luxurious brooches and wide range of colours and textures of bonnet caps.
| | |
| --- | --- |
| Image courtesy of Megan Hirons Mahon/Gulf News | Image courtesy of Dewineelam Blogspot |
| | |
---
Similar in fashion, some hijab style accentuate and best suit your face shape and creates a wonderful subtle effect.
Here is some tips to choose the best hijab style that suit you.
---
Find what basic hijab colours that are a 'must have' for your wardrobe, hijab colour palletes that suit your skin colour and 'do' and 'don't' in choosing your hijab colour in here.
---
Here are hijab fashion tips on how to wear hijab in accordance to your skin tones and choosing the best hijab accessories for you.
---
~~~~~~~~~~~~~~~~~~~~~~~~~~~~~~~~~~~~~~~
As you enjoy and find inspiration from the ideas here, would you like to share with us and
submit your own Hijab tips, ideas and photos.
You'll be taking part in creating and developing the 'best' Islamic clothing ideas resource that's absolutely
FREE
for every Muslimah to share here, InsyaAllah!
Jazakallah Khair.................



~~~~~~~~~~~~~~~~~~~~~~~~~~~~~~~~~~~~~~~
Share with us about your own Hijab tips, ideas and photos
Describe your tips and ideas here. Just enter any sort of information that'll help inspire others to do it themselves.
What Other Visitors Have Said
Click below to see contributions from other visitors to this page...
SCARF TIPS

I found that the best way to wash all types of scarves is by hand wash & with cold water( I mean cold tab water) as this will keep them in their original …
---
Return from Hijab to The Best Islamic Clothing Homepage
---
Comments
---
New!

Comments

Have your say about what you just read! Leave me a comment in the box below.