Hijab Fashion Interviews
ANGE from Miss Hijabi/Hegab Rehab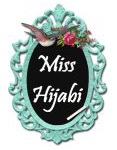 Author of "Miss Hijabi" previously known as "Hegab Rehab" Blog, The Original Australian Hijab Blogger
Ange is your hijab style enthusiast with a flair of hijab fashion that appeal to many Muslimah. With a passion for style, all about Islam, and finding the best hijab style tips and ideas to share, she's just like so many of us.

Her blog, Miss Hijabi, so honest, sometimes funny and so popular. Her readers relate to her, and when Ange opens up her hijab style thoughts to all of us, we respond in kind.

Please sit back and enjoy our talk with funny and seriously direct fellow Aussie Ange!
---
Assalamualaykum Ange, many thank for allowing us to interview you. Would you mind introduce yourself and tell us all about your blog and information that you offer?
I'm an Aussie Muslim convert who lives in Australia. I run a couple of blogs - one is a lifestyle/personal one while the other is Hegab Rehab - a hijabi fashion blog.
Our visitors are generally interested in Islamic clothing and modest dressing and tips and ideas to look good in hijab. As a hijab fashion blogger, what would you say are the most popular hijab styles worn by Muslimah around you, and in what ways can they enhance their hijab style naturally?
There isn't one style. From the styles I've seen around me and in my community, there are so many varying styles of hijab and dress. A lot of people will dress according to their own specific culture, while others will wear hijab with more of a Western style twist to it, or perhaps a mix of the two.
The best way to enhance your hijab style is just to go with your own flow. Don't try to copy anyone else and don't try to dress according to someone else's specifications and rules. Just do what makes you feel comfortable.
Could you to tell us briefly about your product reviews?
I started doing product reviews a while back. A few companies got in contact with me and wanted to send me items to review and it all started from there. It is a win-win for both the companies and the readers because the companies get their products advertised to a specific targeted audience and the readers get to discover new items that have been "road tested" by me beforehand. I find reviews in general really helpful because it helps in the decision making before you commit to buying a product. If you know someone else has said it is good/bad then it will affect whether or not you buy it. It might persuade you to buy a product or it might save you from wasting your money.
We understand you also have products of your own in your blog.  Could you please let us know what they are?
It varies from time to time. One month it will be abayas, then sheilas and kaftans, then coloured hijabs, etc. I don't really stick to one kind of product. I come across different things and focus on that for a while, then change my mind later down the track when I find something new. I never really stick to one type of product. At the moment though I am selling Khaleeji style sheilas - I love the blingy crystal designs and the customers seem to as well!
It is apparent from your blog posts and photos that what you do is a lot of hard work both creatively and physically. Do you enjoy what you do and what is it that keeps you going every day?
If I didn't enjoy it, I wouldn't continue doing it. The main reason I started up the blogs was because I was constantly bored out of my brains at my old work (desk job - argh!) and thought that blogging would be easy and fun.
I continue it because I get a lot of positive feedback from it. On the one hand, the Hegab Rehab hijab blog helps a lot of women, especially young girls, in wanting to wear hijab. I love getting emails from young girls (and sometimes even older women) saying that I have in some way helped them on the path to hijab - it is very uplifting and makes me think I'm not just wasting my time focusing on fashion, which can at times seem very frivolous.
Also it is fun to do. I enjoy both blogs as it is in my personality to want to share things - whether it is ideas, opinions or creative images.
Some of our visitors may be intrigued by the idea of wearing stylish hijab fashion to look good and confident, but may not know where to begin.

What general advice would you give someone who is interested in ordering from you or your reviewed products, but first would like to know some ideas about where to begin to educate themselves on trendy hijab fashion?
I don't like the words "trendy" or "fashion" that much. I'm more about feeling comfortable in your own unique style and running with that as opposed to wearing what someone else regards as "in" or fashionable.
Style, like beauty, is definitely in the eye of the beholder. The best way for any woman to dress is to dress as herself. If a product or certain style appeals to you, then go ahead and get it - especially if you know it will compliment who you are and what you like to wear, but if you know a product isn't what you would usually wear and wouldn't suit you or you wouldn't be comfortable wearing it then don't bother.
Ange, thanks again for talking with us. Lastly, we would like to ask you how you first got into your line of interest and what initially made you into it.
As I touched on before - complete and utter boredom. I hated my job and usually had nothing to do during the day so I turned to blogging to occupy my time. Now I have switched jobs (and love it) but still continue blogging from home because I enjoy it so much.
I guess the main reason why I started to create a hijab style blog was because I was new to hijab myself and basically didn't know any Muslim women (the ones I did know didn't wear hijab) who could teach me or guide me down that path, so I started the hijab blog as a way to finding my own style with hijab. I had to change the way I dressed completely - I had to start covering my head and all of my body every single day and wearing looser clothing and to a typical Western girl it is a challenge to go from wearing whatever you want to having to dress according to certain guidelines.
Knowing how to dress and more importantly where to shop and find appropriate clothing was a bit of a challenge, especially when I didn't have anyone to help me, so blogging about my little hijab-style-finding journey was a good exercise. I could find cute styles, make up images of my own complete hijabi outfits and share them with others. Looking back, some were not so appropriate for hijab, but I guess it's a testament to my learning curve about wearing hijab and modest clothing.
---
Many thanks go out to Ange for taking the time to write such seriously honest and helpful answers.
For more advice and charming pictures of her hijab style, please be sure to check out Miss Hijabi and enjoy her sometimes eccentric and funny comments!

---
Return from Hijab Fashion Interviews Ange to Hijab Fashion Interviews
---
Return from Hijab Fashion Interviews Ange to The Best Islamic Clothing Homepage
---
Comments
---
New!

Comments

Have your say about what you just read! Leave me a comment in the box below.