Hijab Fashion Interviews
Tabassum Siddiqui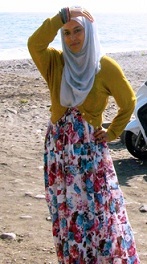 Head Designer of Shukr Islamic Clothing
Tabassum is one of the premier designers of Islamic clothing in the hijab fashion industry. It's entirely possible you already own something she designed, and if you don't, you'll want to see what she has to offer at SHUKR website and blog. Apart from design, she is also the Style Contributor for SISTERS, a UK based Muslim women's online and print magazine.
Tabassum is a perfect fit for our hijab fashion interviews, as she has lots of expertise and experience to share with so many of you. Here now is Tabassum Siddiqui, and we hope you all enjoy this exclusive interview.
---
Assalamualaykum Tabassum, many thank for allowing us to interview you. Would you mind introduce yourself and tell us all about your profession as the head designer with Shukr, a well-known contemporary Islamic clothes shop?
Wa alaykum as salaam Umm Aqib. Thanks again for this opportunity. I'm Tabassum Siddiqui and I head design at SHUKR. I'm happily married, alhumdillah and live in Southern Spain. I'm originally from the United States and was mostly raised in Southern California and for me that will always be home although I have created a home for myself here in Andalucia.
I started at SHUKR just about 6 years ago and I can't believe how much time has flown by! There I'm responsible for all of our lines for women and men except for some of our accessories. It's been an interesting ride that has taken me to parts of the world that I thought I would never visit or live in.
I still can't believe that I lived in Damascus without knowing more than a few words of Arabic! But I did it and it was quite an experience. Apart from designing, developing new lines, and sourcing new materials, I also contribute a lot to our blog and marketing division.
Our visitors are generally interested in Islamic clothing and modest dressing and tips and ideas to look good in hijab. As a designer, what would you say about your product lines in Shukr?
The first 2 words that pops into my mind about our clothing are versatility and modern. Having a wardrobe with versatile pieces is really important because that means that you have a wardrobe that works for you.
I always recommend having a few statement pieces but having a good arsenal of foundational pieces that won't go out of style are key tips to build up a good wardrobe. So with the lines we have at SHUKR and for the types of customers that we have (Muslim and Non-Muslim from all over the world), I have to design collections with pieces that you can wear out in Manhattan or in Amman for example.
And many of the pieces can even work with previous collections or blend well into your existing closet. Unless you are an extremely eclectic extroverted person, most people are looking for great clothes for everyday and not only for special occasions. So the base of what we do at SHUKR is just that, creating casual chic clothing.
You've been doing what you love for many years and your portfolio is very impressive. Apart from your experience, what do you think differentiates you from other fashion designer in your area?
I don't think you can separate your experiences from who you are. It is because of what I did to prepare myself for my role as a Designer and where and with whom I had these experiences that has made me into the type of person and designer that I am. Initially, I thought that if I was going to take up designing seriously, I should to go to the best places to learn. So that's what I did.
And when I was offered a position at SHUKR, I thought it would be a good idea to take my industry experience and apply to an Islamic environment with an Islamic company that wants to do something serious with Islamic clothing and bring it to a global and professional industry level. As far as I know, there are very few Muslim designers out there that have been trained at that level or who have worked in the fashion industry.
Apart from the many things that you have to be as a designer, being very good at your craft is so important if you want to compete in this industry. And because of my diverse experiences, training, and path I've taken in life, I have a unique perspective on things and approach to design.
Many of us realise that Muslim fashion industry is lacking of inspiration. What do you think could drive the industry to a respected level where you could instantly identify with and at the same time blend smoothly with others?
I would have to disagree. I think that the Muslim Fashion Industry is a new concept all together. With SHUKR being the first company to take Islamic fashion global about 10 years ago and really opening up a niche for Islamic fashion that didn't exist before, we are now starting to see lots of new companies and designers taking the big leap to launch their own lines too.
And now with e-shops, blogs, Facebook, Twitter, (etc), Islamic fashion has gone to a whole new level and is now in the international press and being recognized as a lucrative niche market. Now if the international press and industry leaders recognize us as a serious player in the wider fashion industry that's a separate topic. I don't see the Muslim Fashion Industry as lacking so much in inspiration as it is in experience.
Since our industry or market is new, it really can be molded into whatever we want and we are seeing that now with all of the new Islamic clothing companies cropping up. To be recognized as real fashion industry players, whatever we do has to be professional, of the best quality and to the highest of standards, and we have to work to establish ourselves and not to become a company that is here today and gone tomorrow.
Another way is to work within the greater fashion world and not outside of it all of the time. How cool would it be to see your favorite Islamic clothing company's brick-and-mortar shop next to another big name mainstream brand on the same High Street? We should not only think that Muslims are looking for modest clothes.
Just from my time at SHUKR, I've seen so many comments from Non-Muslims who love shopping with us because they can't find these type of clothes in mainstream companies. So opening up our market would also be an important move for Islamic clothing companies. We're still sticking within the Muslim market for the most part, but bringing Islamic fashion or modest fashion to everyone at a competitive level would be interesting.
What the Muslim fashion industry needs is time, more resources and support, more Muslims coming into fashion related positions with experience and/or training, more exposure, more of a sense of community amongst all of the companies and designers within our niche, and being recognized more by industry leaders within the greater fashion world.
You design clothes of all types and styles, what do you feel is your personal specialty? Is there a particular style you enjoy the most or have a certain knack for?
I naturally lean towards designs that are more experimental, sometimes complicated in their construction, with a focus on unique details, and working with more luxurious sustainable fabrics something that our SHUKR customers don't get to see because at SHUKR I design for a very specific type of customer.
In general, I love designing and whatever project I have to do, I can put my mind to it and enjoy it. And style-wise, I'm a pretty eclectic person and I can find beauty in almost any type of style and because of that I like to change-up my look-sometimes daily!-and the way I design too.
What is your typical everyday routine like as a fashion designer and how does it affect the type of clothe you wear daily?
I wish my days were typical! But if I have a normal day, then I like to spend my mornings designing because I have found out that it is my most creative time and after lunch I'll dedicate time to respond to emails, doing new blogs, writing up specs for our designs, reviewing sales reports, etc.
Being a designer is a lot of work and in my case since I'm the only designer at SHUKR, so it can be overwhelming at times. I have to dedicate a lot of time to what I do because there is so much to do and so that leaves me with little free time. I'm constantly on the lookout for things that will inspire me for the next collection. So I have at least 2-3 sketchbooks in different sizes around the house or in my bag so that I have them handy when an idea strikes.
At the beginning of the design cycle, I'm doing research to find new sources of inspiration, new ways to create, and to also reflect on what our customers want. It really depends, I mean when I'm finishing a collection then my schedule gets thrown off a bit or when I have to do research on a new collection or make a business trip.
How does my work routine affect my dressing style? Well, since I work from home, my style is slightly affected. It doesn't mean that I drag myself from my bed in my p.j.s to my desk. I do get completely dressed for work minus the heels because we don't wear shoes in the house! For me, and not everyone is like this, it's important to get into that state of mind of "going to work" by getting dressed for work.
When I go out, I do think about what I'm going to wear and I make an effort. Regardless of the style I choose for that day, I make sure that I look polished because I'm an ambassador for my family and Ummah and it's important to put forth a good example not only in my actions but also in the way I present myself.
Tabassum, thanks again for taking the time talking with us. Lastly, we would like to ask you how you first got into your line of interest and what initially made you into it?
I suppose it would be when I was 5. I was quite gifted and especially in art which is what all my teachers throughout elementary and high school told my parents. I started veering from art to fashion when I was 9 and I drew up my first complete collection. It was weird because I'd never seen what designers' croquis (fashion sketches) look like, but I was able to come up with 6 or 7 fully designed croquis.
I remember in the 6th grade I fully illustrated my own fashion magazine from cover to cover. Everyone thought I was a bit strange, but I loved the results! I had a lot of influence from my maternal grandmother and great aunt. My sisters and I would lose ourselves in their closets and dress-up. They had everything you could ever want from hats, to amazing costume jewelery, to heels, to make-up, to dresses. And my grandmother and aunt could dress! The way they would get dressed up for Sunday church or just to go out was impressive.
I also would spend hours looking at old family photos and LIFE and Vogue magazines that they had and first learning about Christian Lacroix, Yves Saint Laurent, Azzedine Alaia, Donna Karan, Jean-Paul Gaultier and many more and being dumbstruck by their work. But I only thought that "they" could do that. I didn't think that "I" could become a fashion designer. After that I just kept sketchbooks of designs on the side. Getting into design wasn't something I sat down and contemplated as a career choice.
Designing and making art was something that alhumduillah I could always do and I kept as a hobby because pursuing art at that time wasn't considered a serious career. I mean doing what you love and earning a living from it wasn't a concept then when I was getting ready to go to university like it is now. It wasn't until I had the opportunity to study design at Parsons for my post-graduate work that I actually had to decide if I wanted to choose design as a career path or continue working in Psychology.
Okay, thanks again Umm Aqib, I did enjoy this!
---
Thank you to Tabassum for sharing her time with us, and for designing such beautiful clothe that makes us proud to wear.

Please stop by at SHUKR and check out what she has to offer. Congratulations to Tabassum for carving out a niche and making the most of it.
Thank you for reading this very special interview.

---
Return from Hijab Fashion Interviews Tabassum to Hijab Fashion Interviews
---
Return from Hijab Fashion Interviews Tabassum to The Best Islamic Clothing Homepage
---
Comments
---
New!

Comments

Have your say about what you just read! Leave me a comment in the box below.